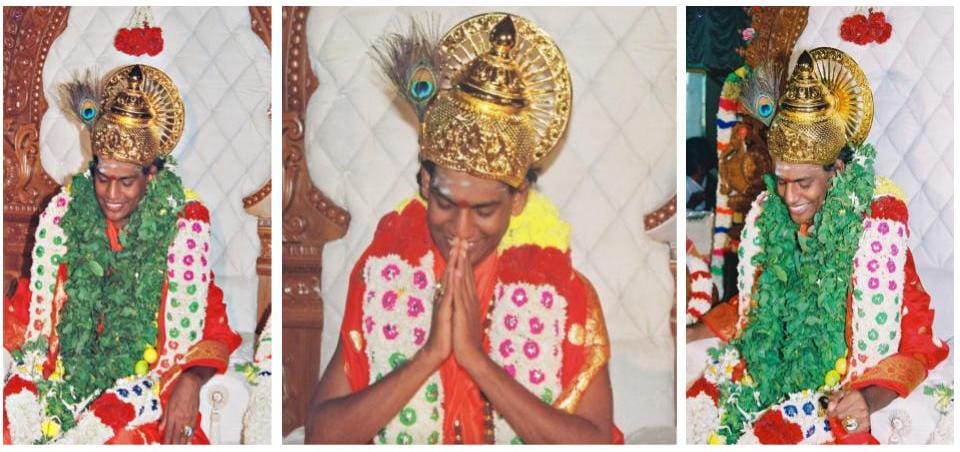 2001 – SPH's Vision of Adi Kailasa and the Kalpavriksha Tree
In the year 2001, The Supreme Pontiff of Hinduism Bhagavan Sri Nithyananda Paramashivam had a divine vision of this very banyan tree. Without knowing where it was or how to get there beforehand, this premonition revealed to Him the place of The Avatar's headquarters in the East. It was then revealed to him that this tree was located near a town called "Bidadi" in Karnataka, South India. The Avatar revealed to his disciples a vision that he had of the ashram he was going to reside in. He told them about a sacred 300 year old tree that was the abode of Muneeshwara, the lord of sage.
Acquisition of the Land of Adi Kailasa
 7 March 2020 | The SPH Reveals how Sri Tiruchy Mahaswamigal Guides The SPH to Find The Land of the Sacred Banyan Tree
The SPH Reveals:
"I was describing about Tiruchy Swami and how he taught Me. He is extraordinary embodiment of love of the Mother, Parashakti, protection of the father. I tell you. It actually happened once. That once I went and told him, that I was in Kailash Ashram, as one of his Sanyasi. I told him that I wanted to leave, to start the work I am supposed to do – the reviving the Kailasa. He looked at Me and said, "Hey, nee enakku adimai, naan solrathuthan seiyanum. Nee ninaichathellam panna mudiyathu." I just fell at his feet literally and said, "Swami utharavu. Swami adimaiyaga etrukitathe perisu, swami utharavu." Means I told him that, " Let your command be the ultimate. You accepted Me as your slave, that itself is a great thing, greatest blessing. Only your command will be done." And there were few devotees around. He laughed and told them," Ivan pattan ivana ennaku ezhuthi koduthuttan." He told them that My grandfather has written and given Me to him as his slave.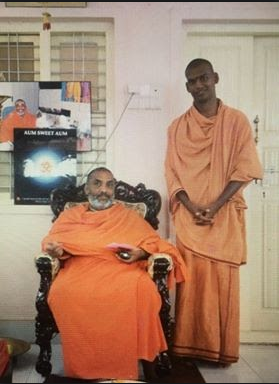 Within few days, on one 19th, he calls Me. I went to his room and touched his feet and he said, in Tamil, "Dei, ukkaruda." He will call Me in singular only. Very intimate relationship and it is a great blessing to be called by them in singular. He told in singular, "ukkaruda" – sit. I sat in his presence, bowing down and covering the mouth with the hands. One of his disciples, Shiva Puri Swami, great Swami. He has his own ashram. He went from his ashram, means Tiruchy Swami's ashram, to start his own ashram on 19th. So every 19th, he will come to have darshan of Tiruchy Swami and they will have closed door conversation – they will not have anyone else in that meeting. But that day, he allowed Me, he asked Me to be there and Shiva Puri Swami came and as usual he offered the flowers, fell at his feet and did darshan and he did all that and then Tiruchy Swami, he told Shivapuri Swami to sit. He sat one side and I was sitting the other side. I was about to get up and go out, he said,"Sit." And then he told Shiva Puri Swami in Tamil," Appa, ivanukku Alamarathodu Ashramam amayanumnu Ambal soluchi. Nee oru Alamaram vachikeliya, athuthana ivanuthunnu paaren." He was telling in Tamil. Devi told him," That under a Banyan tree, a huge ashram will happen for this Swami, you have one Banyan tree in your ashram, can you take him and show."
Is that the Banyan tree Ambal showed him. And I promise I tell you, I have not told Tiruchy Swami, that I had that darshan at that time. I really did not tell Tiruchy Swami. I actually had darshan, but I did not tell him. I was shocked. I was searching for that Banyan tree all over the Bangalore. Those days devotees they know, at least hundred places we visited in search of that Banyan tree. Anyhow, I went and saw that Shiva Puri Swami's ashram Banyan tree and said," No, this is not the Banyan tree." I came and reported back to him. Then he said, "Alright wait, I will find out. I will find out which Banyan tree." First I did not reveal to him. After he revealed, Devi showed him. Then I told him that," Yes, I had darshan and vision and still it is there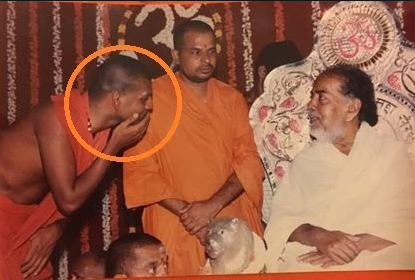 in My Being like a print". Finally, that devotee who owns that land, in his dream, Paramashiva appears and tells, that I am staying in Omkar hills, to go and meet Me. And then Tiruchy Swami tells," Alright you go and stay in Omkar hills."Exactly, that few days, he sends Me there. And the devotee comes and meets Me in Omkar hills. Then I brought that devotee to Tiruchy Swami and he said," Right, now you go and see." And then I went and saw the Banyan tree and that is the Banyan tree. Then after that, I wanted all of you to know, Tiruchy Swami personally visited our ashram and blessed. Not only Shiva Puri Swamy came, Tiruchy Swami also came personally, physically and blessed. Nobody knows, very few people only know. He came and personally blessed and he only said," Svayambuda, Olunga Puja pannu.Kaapathirum." He told seeing our Shiva Linga, in Tamil, It is Svayambu, take care of it well and do pujas properly. It will do all the good things and protect you forever. " Nalla valarum".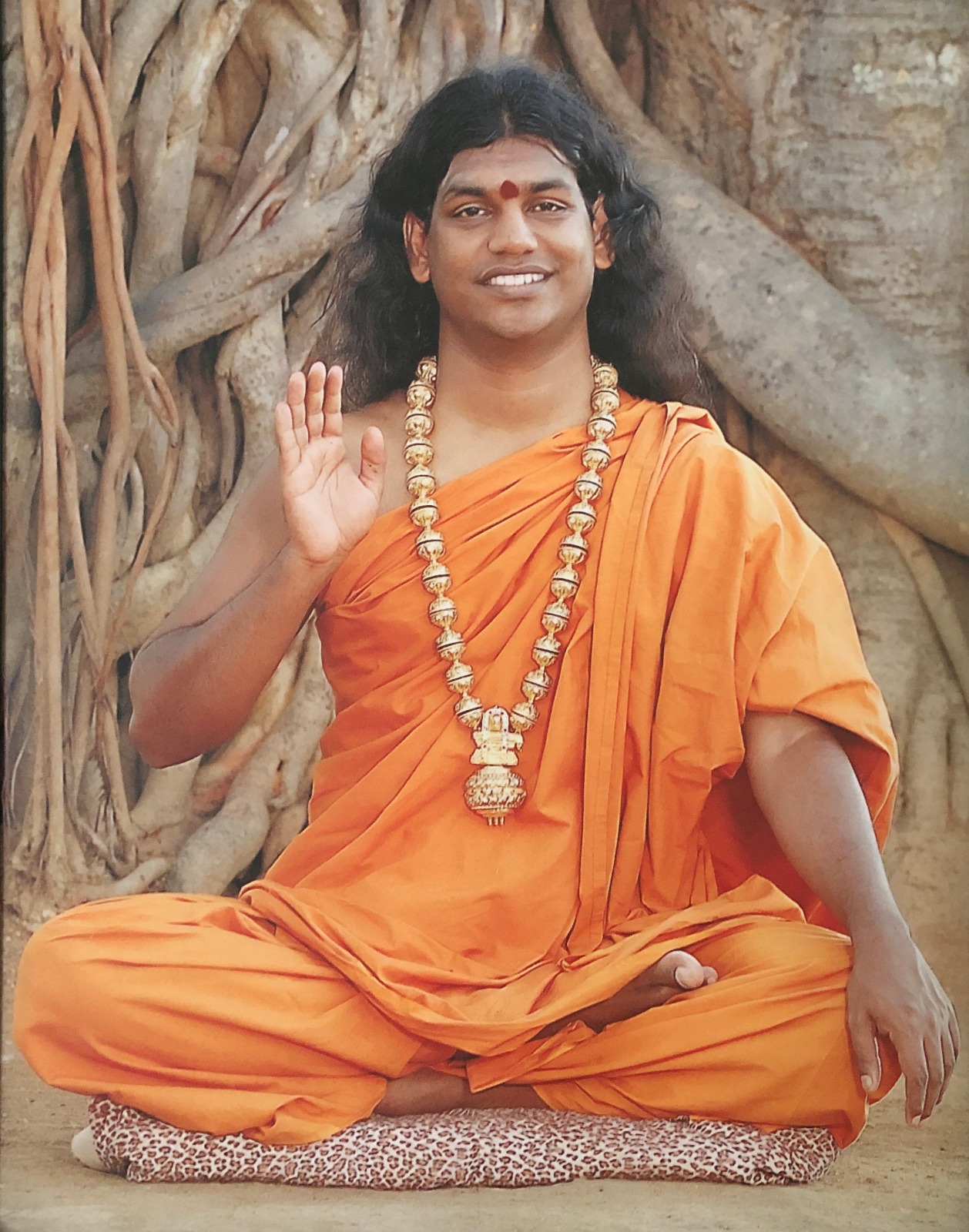 The SPH Instructs the owner of the Land Vinayak Rao to Donate Land to The SPH

One day, Vinayak Rao was blessed with a Divine Vision and darshan of Adi Dakshinamurthy, the Primordial incarnation of Paramasiva, wherein He revealed the form of a young Swami with a smiling face and wearing a turban and spoke thus: "I, Paramasiva have incarnated as a young Swami and have come back to adorn this Peetha and revive it." The Peetha revealed is the Kailaasa Paramparagatha Adi Kailasa Nithyananda Peetham, which has been in existence from time immemorial and where stands the sacred Banyan tree, and the revealed form of the young Swami looked exactly like none other than The SPH. Vinayak Rao shared with Sri Shantaveera MahaSwami and the administrative committee members, the Divine Darshan. Sri Shantaveera MahaSwami immediately saw in his own Divine Vision and confirmed to them that the young Swami revealed as Paramasiva's incarnation was indeed The SPH.
There is another experience shared by Vinayak Rao, " My Family had a huge property in Bangalore City called Sajjan Rao circle. It was in court for many years and it was not leading to any conclusion. Bhagawan Dakshinamurthy appeared in my dream and told me to donate the land in which Adi Kailasa Nithyananda Peetham is present to the SPH and the litigation will be resolved.  At that time the Land of Adi Kailasa Nithyananda Peetham was a deep forest and a snake park.
Owners of the Land share their memories of the Sacred Abode of Kalpavriksha 
Annual Anniversary Festival and Summit for Hindu Leaders Led by The SPH

The grand inauguration ceremony of AdiKailasa and the Avatar's 26th Jayanti (birthday) was celebrated at AdiKailasa Nithyananda Peetham, spiritual headquarters of the global Mission at Bengaluru. For this landmark occasion, several VIPs were invited, including as guest of honour, Shri Balagangadharanatha Swamigalu of the Adi Chunchanagiri Mahasamsthana Mutt – a mutt 2000 years in existence, His Holiness Sri Sri Sri Shivapuri MahaSwamiji of the famous Omkara ashrama Mahasamsthana, Shivakumara Swamiji of Siddhaganga Matha and a few local political leaders.
Annual Anniversary Festival and Summit for Hindu Leaders Led by The SPH